So, June 26th, 2015 is now the USA's day to be PROUD!
because they finally followed the same suit that Canada did and approved nation wide that same sex marriages were legal.
NOW it's JUST marriage, regardless of the two getting married. No more need for defined labels.  I find it quite amusing to see SO many closed minded people going on about how they plan on moving to Canada JUST because the United States decided to give EVERYONE equality in the eyes of marriage.  Eh?! Seriously?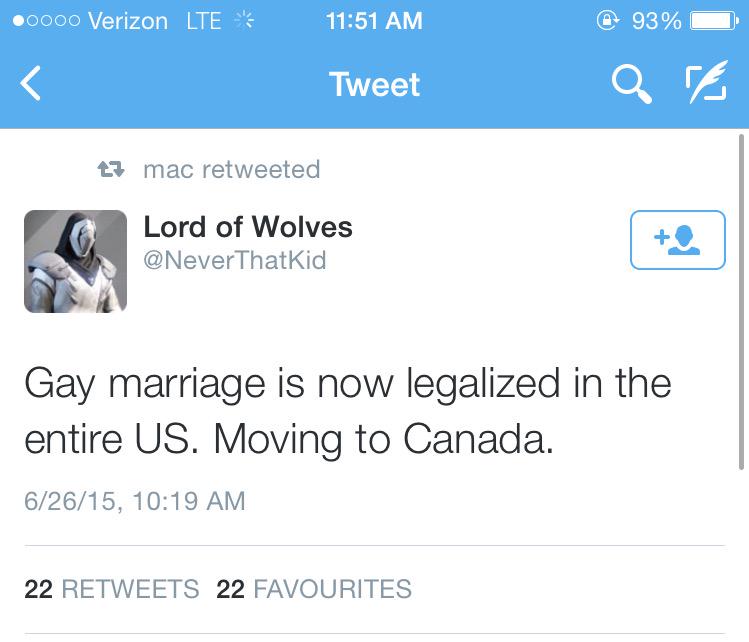 Ummm, NEWS FLASH there hunnies,
Canada gave marriage equality back in 2005, TEN whole years before the USA even did.  SO I think there's going to be some sorely disappointed foreigners coming to our borders if they think we're keeping anyone who's gay out. If you REALLY hate gay people THAT much… How about you move to places like… Oh I don't know… a suggestion…. like say Iran?  Saudi Arabia? Egypt? Libya? JUST to name a few. I'm SURE you'll ALL fit right in!!! Gay acts there are punishable by death. I'm sure as a "Christian" they will HAPPILY accept your views! (So long as you convert!)
Oh and good luck with that. 🙂
To the USA… Congrats! (It's about time) but Welcome aboard the equality train~!~
#loveislove
NOTE: 
In light to the state wide appoval to give equal rights to everyone who wishes to marry; people need to remember The unity of two souls existed long
before most religions. Those who don't want to embrace the new rights that gay couples have don't have to like it; they also don't have to believe it's right,
but I feel when their close minded venomous ideals are spewed upon the masses and scream that it should be forced on a legal level on everyone; well this
is a form of oppression isn't it? These people want to take away a right they have ALWAYS had because it interfears in their lives indirectly. I don't get it.
How is a person who is unknown to most interfearing with another persons life? Canada did it LONG before the USA and we're STILL the same.
The world didn't fall into brimstone or self destruct. Those who spew hate with the ideology that they are "Christian"need to learn that they are using their
bibles in the wrong way. Never beat someone with the word of god, it might come back and bite you back.